Cheap Phone Sex and Free Phone Sex
Now you may not believe this, but you can actually get free phone sex on sincats.com. And that's pretty incredible considering how we have some of the hottest and best phone sex operators on the internet. These performers range from brand new barely legal amateur performers to full professionals with years of experience in the phone sex industry.
So you may be wondering how we do it? We'll each phone sex performer is able to create pay per call packages. This means that the performer can create the length of time and cost. So naturally performers can create free call packages if they want. We even have a section on our main call option board that list the latest call packages and any calls that are 100% free!
Now of course as a customer you will need to pay for a longer call and trust me, our performers deserve to be paid. But if you are seeking a sample then there are plenty of performers that will offer you a 1 or 2 minute free call. Then if you want to have more time with the performer you can click to order a longer call. Most of our performers (even the best and most experienced) offer cheap phone sex.
More ways to get Free Phone Sex
Another way to get free phone sex is by viewing our performer shout board. This is where you can see all of the latest shouts from our performers and what specials they are offering at the time. For example many performers offer additional free minutes if you order a pay per call package. Like if you order a 30 minute phone sex call package the performer will create a free 10 minute bonus package.
You can also get free phone sex by becoming a regular client of a phone sex performer on our website. Many performers offer bonus free calls if you reach a certain call quota within a period of time. This is their way of saying thank you for being a loyal customer.
That's the really great think about our website and call system. Since the performers have the power to create pay per call packages at anytime you can talk to them about what you want and how much you are willing to pay. You may be a little short on money at the time but still want to get off with one of your favorite performers. You can send her a message and ask if she can create a call package that fits your budget. If you are a regular customer she will most likely work with you.
And as always your personal details always remain private and secure. All calls our connected through our toll free phone number and we use a double blind calling system. This means that the customer cannot see the phone sex performer's details and the performer cannot see the caller's details. This is also true for your email and any other private details.
Don't mistake Cheap Phone Sex with low quality
Now don't mistake cheap phone sex with low quality phone sex, because that is not the case at sincats.com. We are a 100% anything goes no taboo and no limits phone sex service. And our performers are the best available anywhere. It is hard to find truly talented and open-minded phone sex performers and we are fortunate to have the best in the business.
Any fetish, fantasy and desire you have can and will be fulfilled. It does not matter how extreme, bizarre or morally corrupt your fantasy is, our performers will help you explore it and get off harder than you ever thought possible. And your secrets remain safe with us. Calls are not recorded and remain 100% confidential. By the way you would be surprised by how many PSO companies actually record and archive calls. We are not one of those companies. We know that in order to truly relax and explore your deepest darkest fantasies you need privacy, and we guarantee that.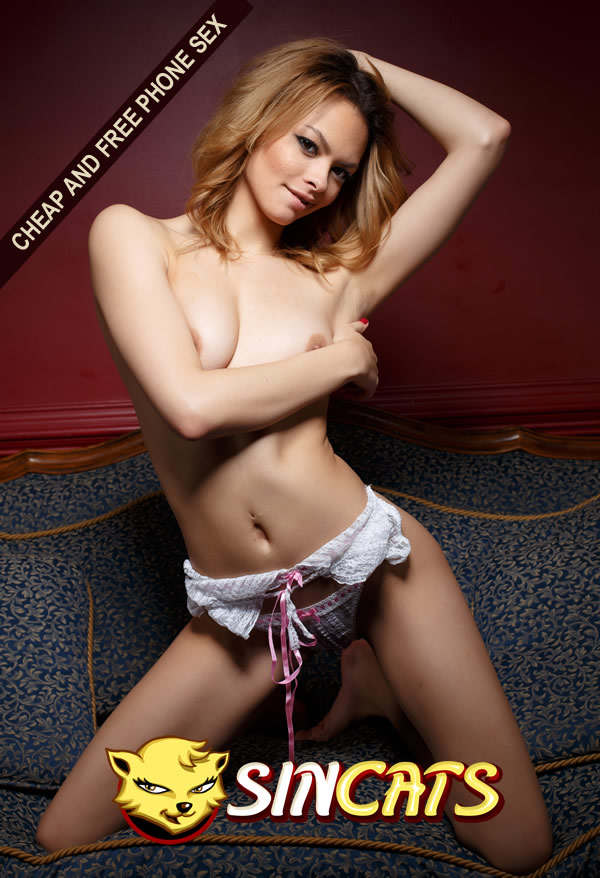 So why not give us a try? Phone sex is a great way to share a very personal fantasy with someone and it also gives you the chance to get off in a safe and secure environment.
Do you often watch porn videos at home? We'll why not get one of our phone sex performers to join you? You can even upload videos and pictures to your private customer member section and share them with our phone sex performers. Imagine how hot it would be for a phone sex performer to watch your favorite videos with you, describing scene by scene everything that is happening.
Our you an exhibitionist that likes to jerk off while a sexy performer watches? We offer cam to cam and we have tons of incredibly naughty phone sex performers that would love to watch you take out your cock and jerk it off while they talk to you about your fantasies. We even have a JOI category section where you can find performers that will guide you and tell you exactly how to jerk your cock off.
Anything is possible at sincats.com. We offer a no limits phone sex service with cheap phone sex and even free phone sex. All that you need to do is register and join the fun!
Are you looking for a phone sex performer to talk to right now without the need to register on our website? Call us toll free at 1 (844) SIN-CATS. That's 1 (844) 746-2287. You will be connected to a live dispatch operator that can help you find the perfect performer.
Cheap phone sex, free phone sex