Best Phone Sex
What is the best phone sex website on the internet today? As you probably know already there are many and each offer a similar service. Some are dispatch websites, meaning that you call a toll free phone number, go through a series of prompts, enter your credit card and hopefully get connected to the phone sex operator you were hoping to speak to.
Others offer a true dispatch service. This basically means that instead of calling a phone number and talking to a machine you are actually connected to a real dispatch operator that can answer your questions and help you find what you are looking for.
Most phone sex customers appreciate a live 'real person' dispatch service as it is more user-friendly. After-all who wants to go through all of the automated prompts to finally reach the person they are seeking?
Now there is another type of phone sex website and that is an online service in which you can order calls. For example you may wish to order a 10 minute call from a performer. You would visit the performer's profile, locate the pay per call item and click to order it.
But what if you had a website that offer both? In our opinion that is the best phone sex website because you have options. This is the type of service that we offer at www.sincats.com. On our website you can chat with phone sex performers through our live (and free) chatroom. You can also send and receive messages. This will help you find the perfect phone sex operator to fulfill your fantasies.
We have also required that all PSOs provide a voice sample, which you can listen to by hovering your mouse over the image of the performer. How many times have you seen an image of the person you want to speak to, only to find that the voice does not match the image? We'll we don't want that to happen on our website which is why we make sure that every phone sex performer has a voice sample you can listen to prior to calling.
We also list a wide range of phone sex categories that you can choose from. Our service has no restrictions so we offer categories that are sexy and extremely kinky. We have even started a video category video channel to help you understand all of them.
Another thing that is VERY important when it comes to deciding the best phone sex website are the available payment options. I think we can all agree that credit cards are preferred, but they can be risky. and often difficult to get approved. I'm sure you have all heard of all the problems with credit card fraud and because of this banks make it rather difficult to successfully process a transaction online, especially if the service is not well know (like a discreet phone sex service). This means that your card will most likely be declined and you'll have to call your bank and approve the charges.
So it is important to have additional payment options. There are several reasons for this including security, privacy and ease of use. For example on our website we offer payment by Bitcoin, Check, Money Order, Western Union, MoneyPak and Money Gram. We even offer a bonus of $50.00 if you add $500.00 or more to your account through these methods.
And finally the last point in considering the best phone sex website is what appears on your billing statement. I mean who wants to see 'Fuck Me Phone Sex' on their credit card bill? Imagine how awkward that conversation would be with your wife or with the bank.
We have a series of websites that all process under one main account called 7 community. We even have a website that explains that we are a social networking service and no mention of anything adult related. So you can rest easy knowing that your credit card statement will appear completely innocent.
Now you might think all of the points listed above are good, but we want to go way beyond 'good' and offer a great service. This is why we are very keen on customer service. We offer fast and professional customer service to help you with any questions you may have.
We have also have many features that are similar to Facebook. In fact many customers have referred to us as the 'Facebook' of phone sex. Although unlike Facebook we do not track and sell your data to the NSA. We also do not restrict you and clog up our website with annoying ads.
But we did take a page out of Facebook's manual when it comes to some of their better ideas, such as the ability to make friends. On our website you can search for friends (both customers and performers) and even search by category. So if you are a guy looking for a MILF you will be able to see a list of all MILFs on our website. You can then send a friend request. Once the MILF has accepted you can post on her profile page and quickly send messages from your sidebar 'friend' widget.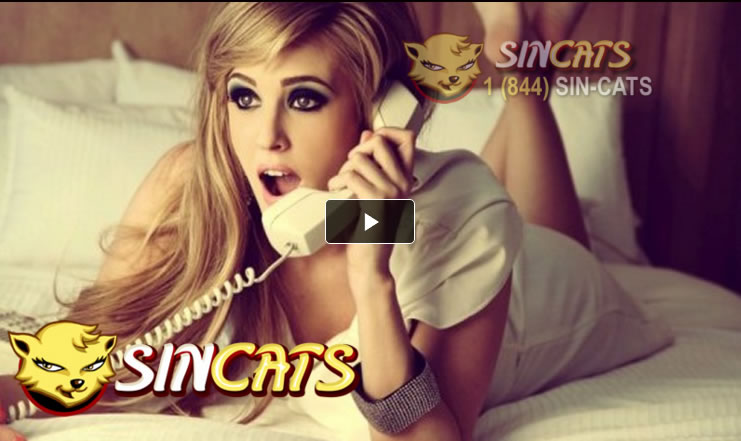 At SINCats.com we cater to ALL Fantasies and Fetishes including Teen Phone Sex, MILF Phone Sex, Age-Play and Extreme Age Play, Gay and Shemale Phone Sex, Phone Sex Dommes and Amateur Phone Sex Performers! SINCats.com is a Phone Sex Website where REAL people can register and gain instant access to a private member's only section.
Indulge in ANY Fantasy without judgment. Get off with our Depraved Phone Sex Performers and enjoy the most Twisted and Taboo Phone Sex Topics and Conversations. Talk about ANYTHING, any subject and any Phone Sex Scenario. We have NO Rules on what consenting adults can discuss and all calls are 100% confidential, private and anonymous.
If you want to connect with someone right now without the need to register please call us at 1 844 SIN-CATS and speak to a live dispatch operator that can help you find the perfect performer for your fantasy. That's 1 844 746 2287. Call us soon and lets have some fun!